'inside Llewyn Davis' Concert At Nyc's Town Hall Celebrates Folk Music
Baltimore Opera Theatre came and went in what seemed like a flash. Amid these and other changes, Baltimore Concert Opera , founded by former Baltimore Opera singers, has managed to hang on and maintain a steady course. The organization, which just opened its fifth season, presents unstaged operas in the relatively intimate ballroom of the Garrett-Jacobs Mansion (Engineer's Club), with only piano accompaniment. An opera given in concert form without an orchestra is far more limiting than one without costumes or sets. But, at its best, this company is able to make the pared-down experience quite satisfying when assembling a cast that can make the music come alive. A good example came Sunday afternoon with a performance of Donizetti's endearing "L'elisir d'amore." Lately, Baltimore Concert Opera has been getting a useful benefit from founder Brendan Cooke's dual duties these days. In addition to serving as artistic director of the Baltimore ensemble, he recently became general director of Opera Delaware. Now, singers engaged for one can also perform for the other. Opera Delaware will present a staged version of "L'elisir" next week; cast and conductor, in effect, got the advantage of having a couple extra run-throughs of the piece in Baltimore. The singers had the score in their heads (no music stands for this performance, as has often been the case). And, having been through some of the staging rehearsals for Wilmington, the cast easily tossed in a lot of acting (and inter-acting) here. The performance was anything but a mere concert. I was especially interested to hear William Davenport again.
Mountain View Police arrest more than 100 at weekend rave concert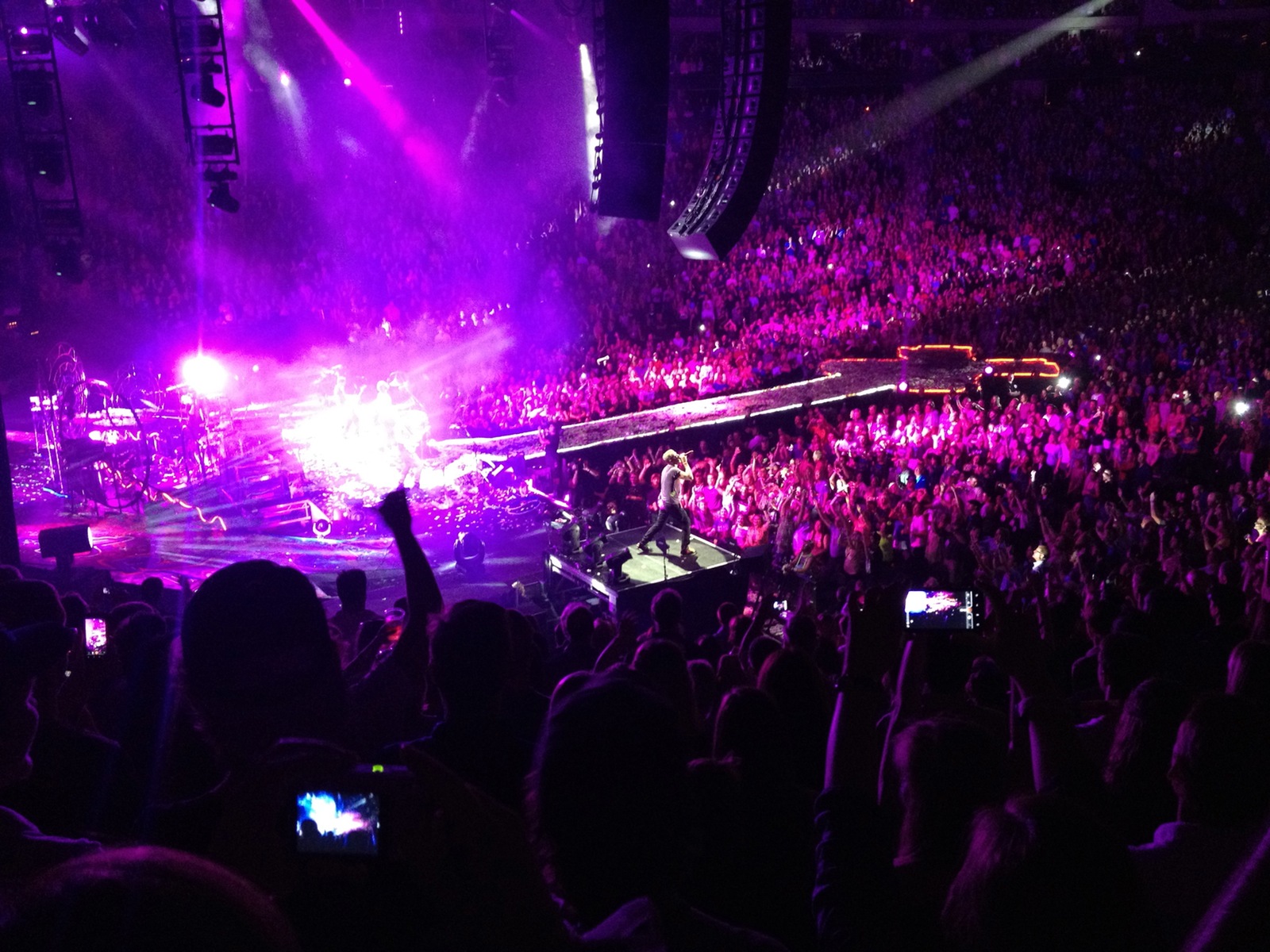 The Punch Brothers, led by Chris Thile, greeted the crowd with a languid version of "Tumblin' Tumbleweeds," then transitioned into the evening's backing band. Mandolin, banjo, bass, guitar and fiddle, the portable instruments that have carried the music through the decades, drove voices consumed by the spirit of hand-me-down folk. "Hang me, oh hang me, and I'll be dead and gone," sang Isaac in "Hang Me, Oh Hang Me." The singer and actor plays the titular character in "Inside Llewyn Davis," and the song opens and closes the film. Loosely based on the late singer Dave Van Ronk, "Davis" focuses on the plight of a struggling singer to prove his gift to an often hard and unforgiving world. Isaac's portrayal succeeds because he's such a talented musician. PHOTOS: Unexpected musical collaborations The night's narrative was driven by something more elusive than plot, though, and the wonder was divided equally between the songs themselves and the many thrilling interpretations. I don't know if I've ever been in a room with so many humans with perfect pitch. Notes soared with pure vocal and instrumental virtuosity as young voices embodied ancient emotions. Gillian Welch and David Rawlings channeled the Carter Family for "Will the Circle Be Unbroken," a deathly ode to eternal bliss featuring dueling guitar and mandolin solos. Actor/singer Stark Sands , who plays an earnest Southern singer in the film, offered the sweet folk-pop song "Last Thing on My Mind." Lake Street Dive highlighted magnetic vocalist Rachael Price, drawing fromfolk and jazz for "Go Down Smooth." Over and over, the boldfaced names proved their status. Jack White delivered a typically raw and honest version of "My Mama's Baby Child," a song over the years interpreted by artists including Bukka White and Lightnin' Hopkins. He also offered one of the evening's sweetest moments, in his song with the White Stripes , "We're Going to Be Friends." Marcus Mumford's rendition of "I Was Young When I Left Home" was utterly heartbreaking: honest, real and without pretense. CHEAT SHEET: Fall arts preview Joan Baez, who has graced this stage on any number of occasions, was greeted with a hero's welcome by audience and musicians, and her performance of "Joe Hill"with Colin Meloy and Gillian Welchbrought theold daysinto the present.
San Jose Taiko's 40th anniversary concert to be held at Center for Performing Arts
The Beyond Wonderland concert attracted about 40,000 fans over two days, Mountain View Police Lieutenant Chris Hsiung said. Most of those arrested were charged with furnishing or using illegal drugs such as Ecstasy, LSD and the depressant GHB; police also arrested some people for drunkenness and others wanted on outstanding warrants, Hsiung said. The goal was to interdict as many drugs as possible to keep the concert safer, he said. "We're just happy and thankful that it's continued to be a safe operation," he said. On Saturday, "we make it through without any major medical issues." The Santa Clara County Sheriff's Department transported those arrested to Santa Clara County Jail. Officers from Sunnyvale and Palo Alto assisted Mountain View Police at the concert, which was limited to those 18 and over. Two hours before the concert's 11 p.m. scheduled end, police had made 55 arrests on Sunday, but the number was steadily growing, Hsiung said. Three years ago, two people died of drug overdoses at a Memorial Day rave at the Cow Palace. Several months later, more than a dozen people attending a rave there fell ill because of suspected drug and alcohol use and were sent to hospitals. Several years ago, two people died of overdoses in connection with a similar music party at the Cow Palace. Contact Sharon Noguchi at 408-271-3775.
Oct. 5 at San Jose's Center for Performing Arts, 255 Almaden Blvd., San Jose. All eyes will be on the group's new supersize taiko drum, which, at 5 feet in diameter and weighing more than 400 pounds, is one of the largest such instruments in North America. "We checked," confirms SJT artistic director Franco Imperial. For the mega drum's inaugural appearance, almost every performer gets to take a turn at pounding on it because, as Imperial explains, "San Jose Taiko is not just about one person, it's about the company." Inclusion and harmony have been hallmarks of the group since Roy and PJ Hirabayashi founded it in 1973. In 2011 the couple figuratively passed the leadership bachi (drum sticks) over to Imperial and his wife, executive director Wisa Uemura. Both are longtime SJT members who were determined that the anniversary concert honor the company's history at the same time it offered new works. Says Imperial, "We wanted to show the breadth of who we are." Besides a recap of the milestone season, there will be a piece in partnership with Abhinaya Dance Company of San Jose. Led by artistic director Mythili Kumar, Abhinaya specializes in South Indian classical dance forms and has previously collaborated with SJT. The concert's second half will consist of a medley of hits from SJT's four-decade history. Although the presentation will be one continuous number with no breaks, "diehard fans will be able to identify the songs," Imperial says. "We are grateful to those who came before us," he emphasizes–a sentiment shared by all admirers of San Jose Taiko. Tickets are $25 for adults, $20 for students and seniors if purchased in advance ($30/$25 at the door) at taiko.org .
Rihanna Booed After Showing Up 80 Minutes Late for Concert
The Herald Sun reported that she also was 40 minutes late for a concert in Perth on Tuesday, on top Thursday's late appearance. . @rihanna over an hour late to the stage in #Adelaide – along with Battleship – that's at least three hours of our lives you've wasted. Sam Kelton (@kelts82) September 26, 2013 "DISGUSTING…my14 year old paid $140 for a waste of time ticket," Tracey Scholl wrote on The Advertiser's Facebook page about the concert. "She was so disappointed, Rihanna is meant to be a professional, I'm sure if she was in another line of work getting paid $140 for an hour and a half, and she rocked up that late, she would be looked down upon…Never again." Editor's Note: ObamaCare Is About to Strike. Are You Prepared? Once at the concert, Rihanna under-whelmed fans and reviewers alike, with some claiming she was drunk on stage, according to Tobias Hadke of NovaFM.com . "When she finally arrived, it was obvious Rihanna had been enjoying a few sherbets backstage," Handke wrote. "If her glassy eyes didnt arouse suspicions, then her constant crotch grabbing and lack of actual singing would have given the game away. Not that Rihanna didnt give her vocal chords a good workout, but throughout the concert, particularly during the first half, she relied on a backing track and the harmonious support of her backup singers, while she concentrated on her dance moves." RadarOnline.com noted that constant reports of partying have hampered many dates on Rihanna's Diamond World Tour. The celebrity website pointed to numerous reports about the singer being late for dates in Cologne, Germany; Sunderland, U.K.; and Antwerp, Belgium.